7 Coffee Shops You Need to Try in San Diego: From a Coffee Lover
By Kasi Khathuria
I love coffee. I may be a bit addicted, but it's my favorite part of the day. Sometimes, I am way too lazy to brew a cup on my own, or I just want to sit at a nice, cozy café. I spend most of my free time trying to find coffee shops that I feel are worthy of my taste buds, and I wanted to share some of my favorites. Whether you are looking for some straight-up black coffee, a nice flavored latte, or a quick bite to eat, these places have got it all. 
La Colombe 
Good Flavor, A Unique Drink
4.5 
$$
I know that La Colombe is a somewhat well known coffee spot on its own, but I wanted to add it to this list because it really is one of my favorite's. If you ever find yourself thirsty shopping around at UTC, check out La Colombe. They have tons of seating for you to relax and enjoy your coffee after a long day of spending money. They also have one of my favorite fun drinks; the Draft Latte. The latte was created by La Colombe, think of it like a draft cold brew, but better. The latte is light and airy, perfect for a hot San Diego day. They offer the drink with either oat milk or whole milk as well as a desired level of sweetness. My go to is the Draft Latte with light sugar, it brings out the flavor perfectly. The flavor of their coffee is great, but the star of the show is the Draft Latte. They also sell the drink in cans, you may have seen them at your local store, but to be honest, it's nothing like the real thing. 
4545 La Jolla Village Dr e, San Diego, CA 92122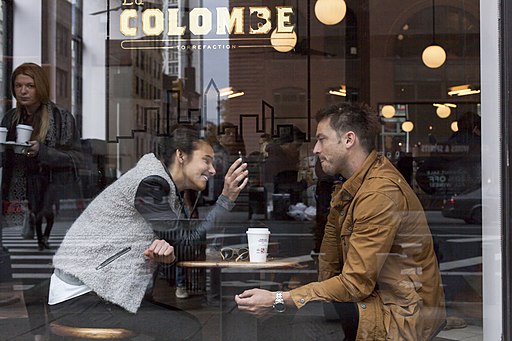 Surfdog's Java Hut
Recently Remodeled
4.0
$
This adorable beachy spot in Encinitas was recently revamped into the perfect study space. They have benches with pillows for customer comfort and the vibe in the shop is simply great. Surfboards are hanging on the walls along with paintings of ocean waves. Outdoor seating is available for when you want to take your work outside or if you're having coffee with a friend. They also offer free Wi-Fi which is perfect for study sessions. It's a great place to visit the day before a big test to get some good coffee and a peaceful yet fun workspace. The decor may be a big attractor, but the coffee is just as exciting. I tried their chai as well as their regular latte and enjoyed both of them with a smile. Smoothies, sandwiches, bagels, and other pastries are also available if you're feeling hungry. Overall a great beach find and a wonderful workplace.
1126 S Coast Hwy 101, Encinitas, CA 92024
Zumbar
After a Walk Along the Beach
5.0
$$
Zumbar has been a family favorite of ours for a while now. We take my dog on a walk along the beach and once we hit Cardiff I almost always run to grab a coffee. The shop is simple, yet highly effective. Their menu consists of a few drinks, but they are all delicious. Out of all the coffee shops I am mentioning, Zumbar has to have my favorite tasting espresso. They measure each grind so that you get the perfect brew in your drink. The cappuccino is a classic favorite and Zumbar makes a perfect one. Besides the cappuccino, their mocha is one to beat. Iced or hot, they add just the right amount of chocolate to get that light sweetness alongside their amazing espresso. If you find yourself in Cardiff, check out Zumbar and you may have yourself a new favorite coffee spot. 
111 Chesterfield Dr #115, Cardiff, CA 92007
Frost Me Cafe and Bakery
The Downtown Spot
5.0 
$$
This Little Italy Café is just as good as it looks. The coffee was wonderful, I got an iced latte when I went before brunch downtown, but for some reason, their croissant was to die for. I don't think I have ever had a pastry as good as that croissant. Next time I am downtown, I'll be buying 10 of those, and you should at least try one. This place has the best baked goods, hands down. Along with their croissants you can find cupcakes, pastries, and other delicious baked goods lined up ready to be eaten. As for coffee orders, I would again suggest the iced latte or a simple black coffee to go along with the delightful baked goods. It's also a great spot to sit inside or out and wait for a table at the many other restaurants around Little Italy. They added lots of nice plants to the shop which made it all more lively as well. It's a great spot to meet a friend or just sit and enjoy the square. 
555 W Date St, San Diego, CA 92101
Manzanita Roasting Company and Coffee House
Right After Church Brew
4.5
$
This Coffee House in Downtown Escondido is a bit random. I drive about 20 minutes to get here from my house, but I believe it to be worth the drive. The café is in the same building as a church, thus the "Right After Church Brew" description. I ended up going on a random Sunday, just as church was beginning so I saw many families grabbing their coffee then going in for the service. I don't know anything about the church, but the coffee was darn good. I've been to Manzanita a few times and one was for my birthday. What's better than birthday coffee? Nothing. That time I had breakfast there as well, their breakfast sandwiches are delicious by the way. What really stood out to me though were the seasonal signature lattes. I've had their lavender latte as well as their orange cardamom latte and they were both so unique and delicious. The flavors complimented the coffee quite well. 
301 E Grand Ave M, Escondido, CA 92025
Cat & Craft
The Purr-fect Café
4.5 
$$
Cat & Craft is definitely one of those cafe's you need to try for the experience, and the good coffee. For $15 you can get into the "Cat Lounge" for one hour and play with the many cats, which are available for adoption as well. All of the cats are rescued and love the attention from the many visitors that come to the café. If you're a cat person, this is the place to be. Then, just through the door, is a well-designed and cozy coffee shop. The El Gato Loco Mocha and the Honey Lavender Latte are worth a try, giving you unique and fun flavors, those are definitely my go-to. Coffee and cats, what could be better? 
3211 Business Park Dr #3b, Vista, CA 92081
Communal Coffee
Best Overall
5.0
$$
I recently started going to Communal Oceanside along the Coast Highway and I've fallen in love. Every aspect of this café is just flat-out awesome. The café itself is very much nature inspired, set right next to a flower shop. Gorgeous flowers and plants line the walls and counters which bring a wonderful lively vibe to the coffee shop. It's also a pretty large café which makes finding seating easier. It's the type of place where you can go out with your friends or even just sit and work on homework while you sip your coffee. They have a variety of food as well such as flatbreads, toasts, and breakfast sandwiches. Baked goods and deserts are tempting while you order, and the large coffee list makes it very hard to choose. Yet, every coffee drink looks to be special and delicious. Something that also stood out to me is that this coffee spot is open until 7 p.m., compared to many others which close around 2-3 p.m. I've had the sweet mint cold brew, which was amazing, as well as a lavender latte, which was also amazing. Next time I go, however, I am going straight for the latte flight. This flight consists of 3 lattes of your choice, out of the specialties, so that you are able to try a little of each. Communal Coffee checks all the boxes and has become my go-to. 
602 S Tremont St Suite 100, Oceanside, CA 92054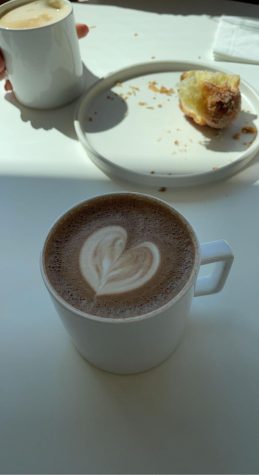 Leave a Comment
About the Contributor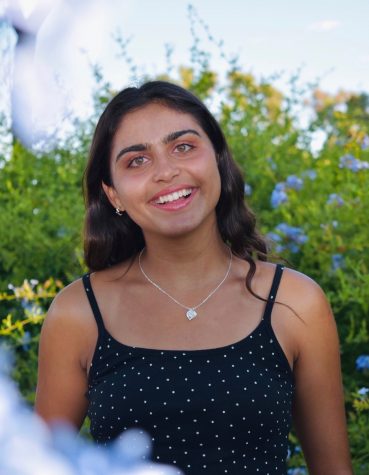 Kasi Khathuria, Co Editor in Chief
Kasi enjoys going on long walks by the beach and trying new coffee shops. Her favorite book is 'Every Day' by David Levithan. If Kasi had $5 right now...