Who's Your Favourite Fearless Hero?! Puss In Boots: The Last Wish
Dreamworks' highly anticipated sequel to the 2011 Puss in Boots film has arrived, and dominated box offices and pop culture worldwide.
Puss in Boots, a beloved character from the Shrek franchise, returns in a sequel to the original The Adventures of Puss in Boots film as he sets out on a new journey confronting danger, death, and a new set of villains. Released a few months ago, this film has recently become available outside of cinemas through streaming platforms, and details Puss's journey as he seeks to restore his nine lives after finding himself down to his last one.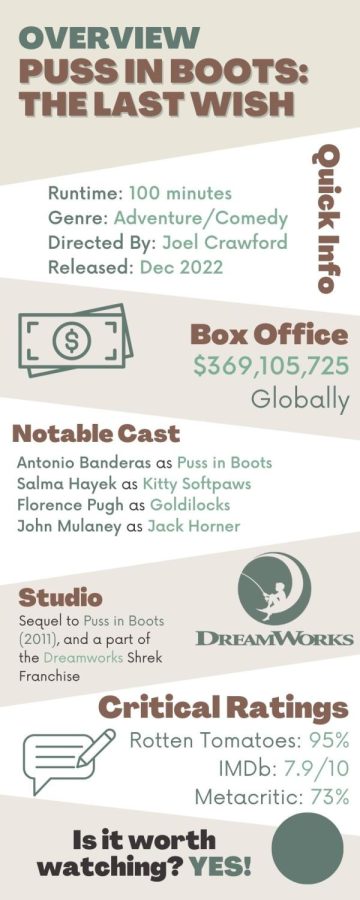 Though the scenery, settings, and characters vary throughout the film, every frame has one thing in common: an immersive, vivid, and bold animation style that brings out the character and life in every single scene. This brings me to the first talking point of why Puss in Boots: The Last Wish has been such an enjoyable film. In 2018, Sony Pictures' Spider-Man: Into the Spider-Verse took an experimental leap with a comic-book-styled 2.5D animation that focuses on expressions, shading, and depth with an emphasis on style and expression rather than detail. Following its success, many other films have been created using this style, and one of the most recent adopters is Dreamworks Animation. After releasing The Bad Guys in early 2022, Puss in Boots: The Last Wish continues to use drawing-styled frames used to bring pictures to life. From the motion lines used to display surprise to the disproportionate character features used to emphasize personality, this film avoids becoming another generic hyper-detailled reality emulator and establishes itself as a piece of modern art. The animation of The Last Wish is an enjoyable and engaging experience, regardless of age.
Though superb, the visuals are not the only incredible part of the film. Dreamworks has a vast history of fabricating incredibly moving, powerful, and meaningful films with beautiful messages wrapped inside. In Shrek (2001), a grumpy ogre learns to open his heart to others, while a beautiful princess sacrifices her vanity for a path of true love and happiness. In How to Train Your Dragon (2010), a bold son of a chief defies his society's preconceived prejudice to forge a beautiful bond with his dragon and teach his people to love and understand instead of spreading hate.
Puss in Boots: The Last Wish continues this tradition as it portrays Puss coming to terms with mortality, the value of life, and the value of consideration for others. Having focused on his life as a legend, Puss has never truly thought about others and drowned in his own narcissism. Now that he is down to his last life, he is confronted with the fact that he can no longer live carelessly, giving the fearless hero fear for the first time. Though Puss's individual character is likable, charismatic, and funny, the film is boosted by terrific supporting characters such as Kitty Softpaws, a mastermind thief from the original 2011 film, and a new character, Perrito, an innocent aspiring therapy dog. These characters are all well-written and are flawed in some form or the other, helping provide a basis for growth throughout the film (which is well executed), and plenty of opportunities for the audience to cheer them on. In combination with the screenplay and animation, you will surely find yourself immersed in the journey with Puss and the others.
"
"I find the idea of 9 lives absurd. And you didn't value ANY of them.
— - Death
Now, let's talk about the bad guys. Dreamworks tends to take an alternate interpretation of our bedtime fairy tales and nursery rhymes and usually puts them into their own films as different versions, being either villains or supporting background characters. Goldilocks and the Three Bears are transformed into a crime household, and Little Jack Horner becomes the main antagonist of the story. Some may feel that Goldilocks and the three bears steal quite a bit of the show with her own sub-plot that highlights the beauty of adoptive love and family, but it humanizes the tertiary antagonists and balances out the main plot so it doesn't become inflated. As for Horner, he is written as a counterweight for the serious themes of the film, creating a simple basis for black comedy and an appeal to younger fans. Apart from the main villains (yes, there are three different sets!), you will see another mystery villain in the form of a wolf that will be as impressive and likable as he is scary. Every character choice is purposeful and meaningful to the growth and development of the film.
Overall, Puss in Boots: The Last Wish is a well-animated, well-written, and well-developed movie that is a fan favourite amongst audiences. This film is a highly recommended watch with hilarious jokes, meaningful and significant messages to the audience, and artistic and playful animation. I personally enjoyed this film, and hopefully, you will too.
Leave a Comment