AP Cram Club and Preparation for the AP Test
By Rena Keyes
AP tests are just two weeks away, and many students are extremely stressed. Trying to remember an entire year's worth of curriculum for a four hour test is a big task. AP Cram club's primary goal focuses on preparing students for their tests and helping reduce stress students may be facing. 
AP Cram club has four co-leaders, Hoahan Chen, Lucas Chen, Nathaniel Hong, and Joseph Lee. The major inspiration behind the club was when the four leaders got together for a cram session to study for the shortened AP World History document based question last year. Hoahan said the session was "really helpful" and they "all passed together." Now they want to help others achieve a passing score as well. Nathaniel emphasizes their primary purpose is to "provide study sessions to prepare kids for the tests." 
If you're worried you don't fit the "standard" for this club, don't be; not only do they have review materials, Hoahan says they occasionally "email teachers to help" with review, specific problems, and provide materials to study. The club also helps each other in classes and Nathaniel says they "do homework and study together when [they] are not doing AP cram sessions."
Right now a cram session is still in the works and hasn't taken place. Hoahan says they have "meetings every Monday at 11:30" but that is just to gather intel into what sessions they need to be making and how they need to be studying in order to set their members up for success. The actual cram sessions will take place closer to the tests and they plan to study subjects based on a survey sent out to the members to see where students need the most help.
We got Spencer Mott, a junior at San Marcos High School and a member of the club, to give his thoughts on this. He believes the club is a great way to not only study, but learn too. Students who have already completed the same classes in the first semester can help him with the course now, and he says "the great part is by helping [him], the students who already took the class in the first semester get a chance to review for the exam."
You might join the club to get a five on the AP exam, but you could also make some friends along the way too! Spencer says "the environment is extremely friendly and welcoming." Remember, next time you're stressed about your AP tests, consider AP Cram club's welcoming environment with members and leaders that will aid in your success!
Leave a Comment
About the Contributor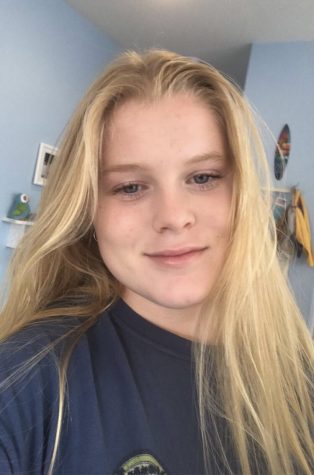 Rena Keyes, Co Editor in Chief
Rena likes to go to the gym and go on long walks with her dog. When Rena is not working at Handels, she loves to read, especially fantasy novels. If Rena...