"We Win as a Team, We Lose as a Team"
Destiny Ware takes the lead to begin girls wrestling team at San Marcos High
The exhilarating cacophony of the room stretches from wall to wall, from person to person. The only thing you can feel is the thumping in your chest, the sweat building up in your palms, the shortness in your breath, and you realize it's time. Time to leave everything on the mat with no regrets. 
All it takes is one decision, one moment to change the trajectory of your life. For Destiny Ware, a senior at SMHS, her defining moment began with her contribution to the formation of the girl's wrestling team. As for previous years, a female wrestling team had yet to be established, Ware's passionate motivation became exactly what San Marcos High needed, a place where girls are recognized. 
In her Junior year, Ware began her journey of putting her thoughts into action, which soon became a memorable decision. "Being a part of an [all-girls]team has allowed me to connect with people older and younger than me. It's honestly crazy to see all the amazing personalities we have in one room. We all train as a team, win as a team, and lose as a team," said Ware. 
In the realm of high school wrestling, there are three major tournaments that members can strive for. The first major tournament is CIF, where teams in one specific area compete against each other and anyone is able to participate. In order to move into the next tournament called Masters, you must qualify to compete. The final grand event is called State, which is the highest ranking competition for students to attend, where the top competitors from Masters participate.
"
"This just proved to me that these aren't just teammates, they're my family,"
— Destiny Ware
In Ware's journey she paved the way from CIF to Masters to State. Beginning this pursuit, Ware placed in second at CIF but this was just one step. Ware then went on to place first at Masters and finally she placed second at State, making her the first ever San Diego County Masters female champion. Among these remarkable accomplishments, Ware found that the biggest one of all was the family she created who believed in her above all else. "My most significant memory had to be competing at masters, it wasn't the fact that I was competing at masters, it was the fact they were all there for me not just as a team, but as some of my closest friends. Even those teammates who didn't go physically were watching my matches online. This just proved to me that these aren't just teammates, they're my family," said Ware.
Ware's teammates influenced her remarkable growth as an athlete and person, but it was also coach Ryan Williams, the wrestling coach at SMHS, who believed in her purpose. "Destiny always displayed a natural talent for the sport, she worked hard and went to CIF and placed as the first girl to ever place at CIF in San Marcos," said Williams. In her unparalleled achievements, Ware's win at Masters meant just as much to her as it did to those who had witnessed her endless dedication that carried her to that moment. "The best part of it was seeing her excitement. I'm not much of a hugger, but after Destiny had won she said 'I'm not taking a high five or fist bump I want a hug', and that was so special," said Williams.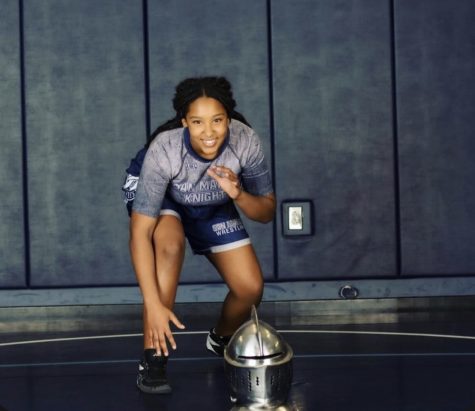 It is because of Ware's dedication that she is able to be a role model for not only her team, but every girl at SMHS that hopes to have the opportunity to discover their own power, the way she has done in wrestling. Ware's ambition proves that one small thought can create a ripple effect for greater things to come.
Leave a Comment