Finding the Calm
By Kasi Khathuria
Her breathing gets heavier and heavier with each stroke. She is halfway through the set, 50-yard Butterfly. It's always been her worst stroke, but she was picked for a reason. Slowing down from pure exhaustion, she looks up as she reaches the wall, her coach right in front of her, cheering her on like no other. "Keep pushing! Don't give up!" That one look and few words of encouragement gave freshman Arlette Galicia the perfect boost towards the finish line.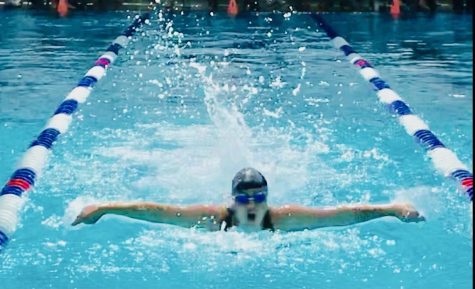 She ended up in 12th place that day, an achievement she seemed proud of. Even though swimming is a very stressful and tiring sport, Arlette tries her best to find peace through every lap. "With swim, you have your own peace of mind, so when you swim, you can do what I do and think to myself. I have my own pace, sometimes I go fast, sometimes I go slower," Galicia said.
Some of her coaches, quite a few of them being former Olympic swimmers, are pretty intimidating. They definitely do not let her relax during practice. However, Galicia focuses on her own progress and takes this sport one stroke at a time which makes it much easier for her to not get overwhelmed. 
Along with finding her calm in swimming, Galicia has an even deeper connection to soccer. She has been playing for 10 years, following in her brother's footsteps. 
Galicia's brother, who is now serving in the military, played soccer and swam just as she is doing currently. They both grew up playing soccer, and this sport is no doubt her favorite.
"It's just my brother, honestly, and how he connects to all the players. He's the goalie and so he is able to take control," Galicia said while explaining her brother's influence on her soccer career. 
Her mom, her brother, her friends, and her coaches are all watching. Whether at a soccer game or a swim meet, there is a constant eye on Galicia. Not to mention, her day-to-day life is stressful in itself. She has to rush to the bus after school to make it to practice and then once she gets home it's straight back to schoolwork. I wonder how she doesn't get overwhelmed, but according to Galicia, it's all about balance and mindset.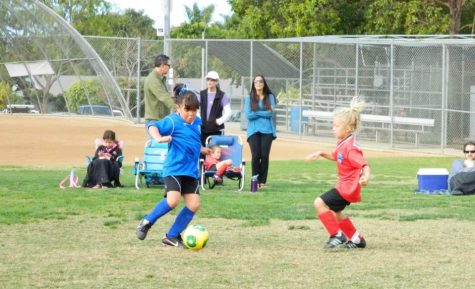 "The first 5 minutes when the ref blows the whistle, I do get nervous and fidget a lot but once it really starts and the balls are on our side, I do get into it." 
Of course, it's human nature to get the jitters when so many people are counting on you, but when it matters, Galicia put's all she has into the game and her focus brings the calm along. 
Playing a sport for as long as 10 years has not only taught Galicia how to keep her cool, but it has taught her how to work with a team and stay motivated throughout her games. Her biggest motivation is her family, specifically her brother, but also her teammates and coaches. 
"It's helped me a lot with my motivation and just knowing that I have a talent," she said while talking about her coaches and teammates' influences. 
All eyes are on Arlette, whether it's when she's swimming a 50-yard butterfly or kicking the ball towards a goal, and she adores every minute of it.
Leave a Comment
About the Contributor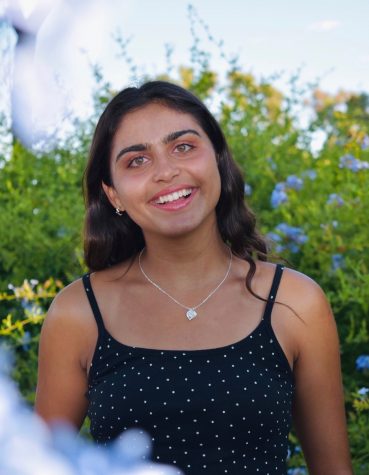 Kasi Khathuria, Co Editor in Chief
Kasi enjoys going on long walks by the beach and trying new coffee shops. Her favorite book is 'Every Day' by David Levithan. If Kasi had $5 right now...