Tragedy Strikes at Oxford High School
By Kasi Khathuria
Warning: This article may trigger some emotions for some readers, please read with discretion.
On Tuesday, November 30, a 15 year-old student walked out of the bathroom at Oxford High School in Michigan and proceeded to open fire with a semiautomatic handgun. 11 people were shot, 4 were killed.  
The suspect, Ethan Crumbley is now in custody at the juvenile jail and was charged on Wednesday December 1 with "one count of terrorism causing death and four counts of first-degree murder, which could lead to a life sentence if he is convicted," according to the New York Times. He also was charged with 12 counts of firearm possession and seven counts of assault. The shooting is reported to be one of the deadliest on-campus shootings. Officials on the case have found no motive so far. After reviewing the footage and analyzing the actual shooting, the sheriff department found that there were no specific targets and the suspect was shooting at random. 
Additionally, Crumbley's parents were also charged with involuntary manslaughter after being taken into custody. They refused to talk or let the officials question their son. Officials also found that the father previously purchased the firearm that was used by Crumbley. The gunman had shown signs of distress such as writing notes which asked for help but also contained drawings of "blood everywhere". His parents blatantly ignored these notes and signals of distress when speaking to school officials. The New York Times and other major news outlets are constantly updating the story on the shooting. To find out more about the case visit Live Coverage of Michigan School Shooting. 
The facts and information of this case are extremely important and I highly suggest reading about the event, but I feel it is most important to acknowledge and honor the students who lost their lives during the shooting. Last week, I constantly checked the live coverage of this case and on Wednesday my heart dropped while reading the latest update. Another student from Oxford High School had passed away at the hospital they were taken to the day of the shooting. This was the fourth person reported to have died. Justin Shilling, 17 years old. Hana St. Juliana, 14 years old. Madisyn Baldwin, 17 years old. Tate Myre, 16 years old. These were the four victims who lost their lives that day. Madisyn was an artist and a wonderful big sister. Tate was a successful linebacker who recently won an all-region award and there is now a petition spreading to rename the school stadium after him. Justin was a part of the school's bowling team and had helped lead the team to victory. Hana was the youngest, she was on both the school's volleyball and basketball teams. Lakepoint community church held a vigil to honor and remember these 4 students. They deserve to be honored and remembered for not only their community involvement but also their beautiful personalities and kindness. 
These students who lost their lives during this horrific shooting were students just like you and me. We all go through the same routine of classes, homework, and tests. We are all in the same generation and age group. Alec Obermeyer, government teacher, shared his thoughts about the shooting,"School as with many other institutions is a place where all individuals, ideas, cultures, and beliefs should feel safe and valued. Where minds should be fostered with love and kindness, yet when events like these happen, which they all too often do, one's natural reaction is to think that this tragedy could have taken place anywhere," Obermeyer said.
Shootings such as this one pose as an added fear in students and staff. When we see events like these, our mind can quickly turn to the question of  "what if that was us?" 
"I think it really is hard to put into words the sense of horror and tragedy that we all feel as educators and students alike, seeing the events that unfolded at Oxford High School. Your heart just crumbles thinking about the families who sent their children to school one morning never to see them return," Obermeyer said. 
It's difficult to even comprehend this tragedy. Scrolling through the news on the case is draining and almost doesn't feel real. An event such as this one is beyond disturbing but needs to be addressed. Andy Johnsen, San Marcos Unified School District Superintendent, sent out an email which encompassed his response to the shooting as well as expressed the help accessible on campus. "I want to share with you that student and staff safety is of highest priority here at SMUSD. We have established school safety protocols, a collaborative relationship with our local law enforcement, and undergo regularly scheduled safety exercises. We also realize that despite all of the protocols and procedures we have in place, incidents of this nature may induce anxiety and fear in students, especially garnering so much attention on news media and social media. In response, our counseling staff is ready to help any student who may need support," Johnsen said. 
Along with Obermeyer and Johnsen I received a statement from senior Sophia Lynch. She expressed her thoughts on the event and its influence on our own students, "Students should not fear and wonder whether or not today will be the day their school is next. Creating a safe environment through the use of social workers and public officials could possibly help students learn to enjoy school instead of fearing it," Sophia said. 
We may not be close to the people who were forced to experience this horrible event but we sure can honor them and help make a change. Awareness of this case and school shootings needs to be heard. It is more than difficult to read about cases such as this one, but it is necessary. Reading about the Oxford School shooting presents the realness of the potential terrors in our own country.
Leave a Comment
About the Contributor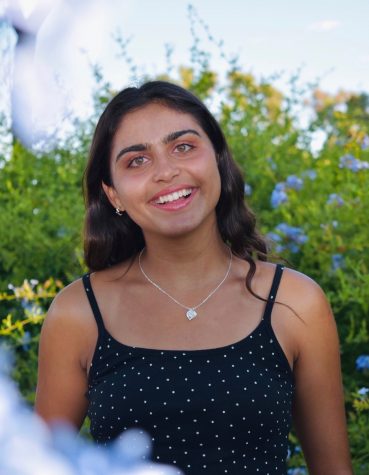 Kasi Khathuria, Co Editor in Chief
Kasi enjoys going on long walks by the beach and trying new coffee shops. Her favorite book is 'Every Day' by David Levithan. If Kasi had $5 right now...