SMEA and CSEA Support School Staff Members Over an Abnormal Year and Beyond
By Evee Pettingill
Upon walking through the front gate, anyone could see that San Marcos High School is brimming with student organizations, with the quad drowned in tables every club rush, the hallways bestrewn with posters for student unions from Asian Student Union to the Rainbow Club, and with student leaders running our campus in everyday ASB. But who represents our staff members; who makes their voices heard? Organizations such as SMEA and CSEA have been doing just that at San Marcos High School since the school's inception in 1961.
SMEA is the San Marcos Educators Association, however, it serves school employees beyond the teachers in San Marcos. 
SMEA represents all certificated workers that had to receive a specific credential geared towards their occupation, such as counselors, teachers, and social workers among a variety of other credentialed professionals, said SMEA Representative Chris Norby. 
SMEA supports these groups of staff members in a variety of different ways, particularly in regard to the agreements that are made between employees and the school district about their salaries, sick days, and health benefits. 
"We ensure that our contracts are being fairly implemented, interpreted, and making sure that teachers are able to continue to do their jobs to the best of their ability and keeping up with what our requirements are as far as what we need to do and what we get in return from the school district," said Norby. 
SMEA has strived to create fair working conditions for educators across the entire school district for decades, but like nearly every aspect of the education system, the operation of school employee organizations has been reshaped by the COVID-19 pandemic. Not only has the very landscape of SMEA functions been entirely changed, with meetings being mostly confined to Zoom since March 2020, but SMEA has been forced to grapple with the unprecedented challenges that educators have been faced with due to the virus. 
"Because COVID has made learning and teaching so much harder, that's one of the things that SMEA has been trying to also have be reflected in how they represent them [educators]… SMEA has been helping teachers navigate the landscape of teaching within COVID," said Norby. 
One concern that SMEA addressed in the course of the pandemic is policy related to pay for staff members that have contracted COVID-19. 
During the first months of the pandemic, the state government came to the decision that teachers would not have to use their personal sick days upon becoming ill with COVID. SMEA was helpful in making sure that its members had been able to fully utilize the legislation and ensuring that the policy is reinstated for future years, said Norby.
As a product of SMEA's work to defend the rights of educators, and to fulfill their needs in the wake of issues that impact the education community, SMEA has become a politically influential organization within San Marcos. As a subordinate of the California Teachers Association, SMEA inherits bureaucratic momentum associated with statewide and national educators' organizations.
With the goal of electing officials that address educational needs and represent SMEA's stances on social issues that influence educators, SMEA endorses candidates running for public office and promotes contributions to political campaigns, said Norby. 
SMEA has amassed astonishing success in championing the rights of certificated educators both through acting as a third party in educators' contractual issues and lobbying for educators on a bureaucratic level. However, credentialed employees only make up a fraction of the staff members at San Marcos High School. Classified, or uncertificated staff members across our campus support the function of our school every day. 
"You don't notice the classified people unless we aren't doing our jobs. Like if all of the custodians didn't show up, one day and the school would just be a mess, or there'd be no food for you guys at lunchtime, or there would be no one to answer the phone upfront. We quietly do our jobs behind the scenes and make it smooth for the teachers," said CSEA Chapter President Yvonne Brett. 
CSEA, or the California School Employees Association, represents classified employees such as librarians, custodians, and cafeteria staff, and advocates for protecting the rights of classified staff members using their employee contracts. 
"There are about 1,100 classified employees, about 550 of them are full time and the rest of them are part-time. We work on their contracts…  we negotiate different things in their contracts; wage increases, working conditions, holidays, benefits," said Brett.
Unlike SMEA, CSEA is a statewide organization that is composed of 754 different branches or chapters in school districts across California. There are nearly 250,000 employees in the entire program. Chapter 413, or the San Marcos chapter is composed of volunteers, a negotiating team, along with a rich variety of other positions one can hold within the organization. 
The negotiation team is in charge of negotiating classified staff members' contracts with the school district on issues related to pay, health benefits, and job requirements, said Brett. 
Additionally, one service that CSEA offers is providing representatives to classified employees navigating conflicts with management staff. 
"Let's say somebody is having an issue with their supervisor, you can call a job steward and you're a third party that sits in, listens in, and helps figure out how to figure out this issue between management and this person," said Brett. 
Since COVID-19, CSEA has also continued to fulfill its regular functions such as negotiating contracts and representing classified employees in matters with district officials, while also adapting to the unprecedented adversities that their members have faced in recent years. With most classified staff members having to continue working in person over lockdown, classified school employees were on the frontlines of the pandemic, with CSEA right by their side. 
"Classified people had to come in and pass out computers, we had to pass out books, the custodians were here all the time, cleaning and sanitizing. The cafeteria people, they were doing drive-through meals. The groundskeepers were still here cutting the grass and keeping things up… We discussed everything, providing masks, providing protective gear, what chemicals the custodians were going to use to clean," said Brett. 
On top of their astounding work to create fair contracts for classified employees and protect them over the pandemic, CSEA also has made a plethora of amazing philanthropic contributions to the classified school employee community. CSEA has a humanitarian fund that members are able to donate to, and during the wildfires in Northern California, those funds were available to CSEA members that lost their homes to purchase hotel rooms, clothes, and food.
"It's a group of people that care about other people, and help each other out when they're having hard times," said Brett. 
 School employees are truly some of the most remarkable figures in students' lives; they educate, empower, and inspire students every day. Nevertheless, those are no easy tasks. Organizations such as SMEA and CSEA support teachers so they can in turn support students in burgeoning into successful adults.
Leave a Comment
About the Contributor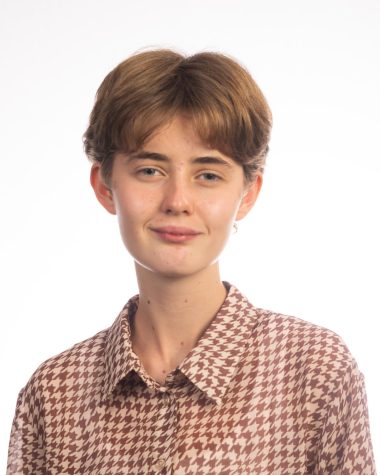 Evee Pettingill, Writer
Evee's interest in disabled rights, gender equality, LBGTQ+ rights, racial justice, and reproductive rights was sparked at a young age, and Evee joined...