Freshmen on the Soccer Team Strive for the Win
By Liv Durr
The clock counted down and the freshmen on junior varsity realized they were going to be League champions. This was their first League win ever and their first year at San Marcos High School. The freshmen on all 3 soccer teams strived for the best within themselves and surpassed their own expectations, though it was a journey. "As a freshman, the unknown part of it is like really scary, but if you talk to anyone that has been through soccer tryouts before they'll say after the fact it's not scary at all," freshman Lilly Apostolakos said. 
Being a student-athlete comes with a lot of obstacles and having to juggle school and practice is quite the challenge. "I was having to run from P.E to get to the soccer tryouts on time. And bring my bag to school. I do feel like that was stressful for most girls. Maybe it did affect their playing. Maybe it didn't," Apostolakos said. Being able to put aside stress and worries and be locked in and ready to go, is an acquired skill that comes from experience and patience. "I struggled with being afraid to mess up but my coach Daniel showed me that when you make a mistake you move forward and go on with the game," freshman on Varsity, Journey Middleborn said.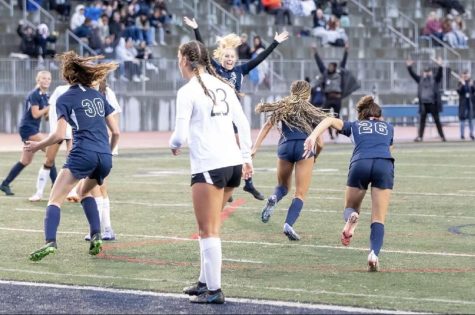 Some freshmen had positive and negative expectations but the reality differed from those assumptions. Many players believed it would be a high pressure, awkward situation where they would feel like the odd man out, but that was not the case. "Something different was the bonding. Everyone's kind of really close and everyone connects really well," Freshman junior varsity player  London Gill said. It seems that  the welcome party was contagious through the teams and the initiative of the team was a whole new experience, "I didn't expect everyone to be so welcoming and dedicated to the drive of the game," Middleborn said.
The 2022 season was a great first season back from COVID-19 for all the teams. The freshman and Junior Varsity team ended their season by giving it their all and winning league. The freshman team record being 6-1. Their league winning game was against West View High School on February 12, 2022 and the score was 4-1. The Junior Varsity team also played against West View High School and the game tied 2-2, but based on past games our Lady Knights still took the title of League champions. Varsity came in second to West View with a score of 0-1 but didn't waste an ounce of hard work, "We didn't win, but we left everything on the field in the second half. Even if the results weren't what we wanted, we did what we could," Middleborn said.
Now that the freshman players have experienced their first high school sports season, they came to a few conclusions for next year's freshman; "Have a really good attitude, coaches do really look at your attitude. And just try your hardest. They see that your putting in a lot of work and they're gonna want to look at you more and think she has more to improve," Apostolakos said. "Just really push yourselves and have high expectations for yourself," Gill said.
View Comments (3)