K-12 Student Vaccine Mandate
By Evee Pettingill
On October 1st, Governor Gavin Newsom unveiled a COVID-19 vaccine requirement plan for California K-12 students. The mandate is yet to take effect, but conversation of how it will reshape COVID-19 safety protocols at San Marcos High School has been evoked across the campus.
Potentially taking effect as soon as January 2022, the vaccine requirement would cause eligible students at both public and private schools to be vaccinated against COVID-19 to be able to attend in-person school.  
"It will cause more people to get the vaccine, which will lead to less people getting COVID-19," freshman Mark Sinnot said. On the contrary, Sinnot worries about controversy that could arise because of the new vaccine legislation.
"Then it might cause some serious disputes because now you would have to get the vaccine, and some people just don't like vaccines, or like refuse to get it," said Sinnot. 
 Jaclyn Preciado, an English teacher at San Marcos High School, expressed enthusiasm for the effect that the mandate will have on staff members' safety. 
"I think it would help with the level of protection; I think that the more people that are vaccinated, I think that it overall just creates a safer environment. Staff members with immunocompromised family members at home may feel more comfortable coming to school, knowing that there's less of a concern of contracting COVID-19," said Preciado. 
 However, Preciado echoes students' concerns about opposition to the vaccine mandate among students and parents. "…A lot of parents I think want the vaccine mandate to protect themselves and their children and their families, but then there is families that feel that it is an infringement on their personal beliefs and values. So unfortunately, I think that that has caused some tension on our campus and in our school community, and I hope that they know that San Marcos High School is just doing it's best to follow the state guidelines," said Preciado.
As COVID-19 vaccine mandates have become more common, anti-vaccine protests have been sparked across the nation. The San Marcos community certainly has not been exempt from these demonstrations. On October 18th, students across San Diego did not attend school or left school early in protest of the announcement of the COVID-19 vaccine mandate. 
On Monday, attendance was lower than usual, possibly because of participation in the walk-out, said Preciado. Although, Preciado acknowledges that participation in the vaccine mandate protests may not have been the sole cause of the absences that day.
 "We've had more absences this year than any other school year, particularly on Mondays and Fridays (laughs). So, it is hard for me to say whether or not those absences were a direct result of the student and family protest of the vaccine mandate, but I wouldn't be surprised if some students participated in it," said Preciado. 
 According to Assistant Principal Kathleen Hale the response to these demonstrations will likely be received from San Marcos Unified School District officials rather than from the San Marcos High School administration going forward. 
"I would say that when the time comes, our leadership at the district level will make some decisions that will impact the entire district," said Hale. 
As the prospect of a K-12 vaccine mandate nears, Hale encourages the students, parents, and staff members of San Marcos High school to look to the school district for information about vaccine requirements during these unprecedented times.  
"As the laws are coming out from Sacramento, I'm sure that individual districts will be responding with their own communication to all the students, and families and teachers for what their policies are going to be. So I would watch for communication from the superintendent's office in San Marcos for what our next steps are," said Hale. 
 San Marcos High School fosters a rich diversity of cultural backgrounds and perspectives among the students and staff members that come to school everyday. Likewise, the announcement of the K-12 COVID-19 vaccine mandate has been met with a variety of emotions including excitement, angst, and resistance. However, over the coming months, community members of all opinions will be left to join each other in watching as history unfolds. 
Leave a Comment
About the Contributor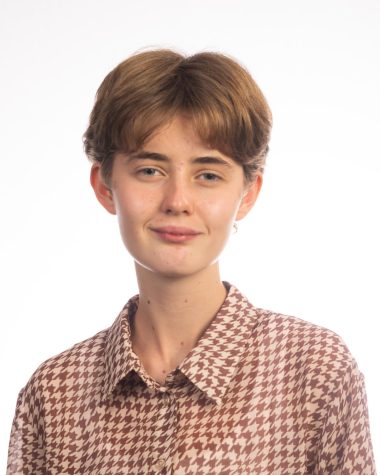 Evee Pettingill, Writer
Evee's interest in disabled rights, gender equality, LBGTQ+ rights, racial justice, and reproductive rights was sparked at a young age, and Evee joined...